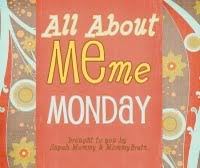 Thought I'd try this one out as this seemed like a fun idea! I can't seem to get the link in right, so I'll have to direct you to Mommy Brain (mommybrainw.blogspot.com) for the link, but here are the 5 things about me Monday TV for me shows to watch.
1. The Office - I love this one! It's the one show I absolutely feel the need to watch each week and will watch online if I miss it. I considered turning it on at the hospital when my daughter was born (4 hours old is NOT too young to introduce her to it!), but decided her visitors wouldn't approve.
2. House - I got hooked on this one during maternity leave. I honestly think it was on SOME channel at every time of day for the 3 months I was off.
After those two, we start getting into the ones I CAN miss, but want to check out (there used to be a lot more "must sees" for me, but just don't feel like there's a lot great on right now).
3. Community - the previews for this looked cute and it's on after the Office, so why not?
4. Glee - a friend highly recommended this, so I checked out the premier online and thought I'd like to check it out again.
5. Cougar Town - I like Courtney Cox and it looks funny.
If I'm not busy, I'll also check out Scrubs, as it's kind of fun. Other than that, I think I must watch a lot of reruns and movies... I mean if not that - I'd have to READ or something! ;)