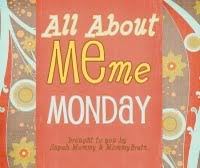 Today's prompt is to tell about your favorite birthday. Personally - I LOVE birthdays! I don't care how old I get, I think I will always love them. My long time philosophy on this (which I repeat often!) is that I get exactly the same amount older every day, but on birthdays I get presents and cake for this achievement! Therefore it only makes sense to live it up and take advantage!
So I think one of my favorite birthdays was 26. It was a Saturday (always a plus!) and randomly warm - actually hot - for December! I'd gotten a leather jacket from my parents, but couldn't even wear it as it was about 80 degrees out. The day started out a little slow - but getting to enjoy a "summer" birthday for the first time in my life was still fun. But then I went to meet a friend to go to dinner. She was running late (as always) and then we had to stop at another friend's place to pick something up (I was starting to wonder if we'd ever eat and was starving!) - but it turned out that was just a ruse to get me there. When we arrived at the apartment, about a dozen of my friends were there with champagne and cake and flowers and then we all went to dinner! I am a big fan of surprises!
Now that I think about it, I also loved 25 (a Friday) because it was the ongoing birthday celebration! There was cake at lunch, cake in the afternoon and then a happy hour with, yes you guessed it, cake! I went to a friends for dinner the next night - and more cake! It doesn't take so much to make me happy.
But last, I can't forget the first birthday my husband and I were dating. He planned a party with all my friends at a wine bar downtown. He got a carvel cake (my favorite) for all at the bar and then gave me some beautiful earrings later that night. He can be awfully good at this stuff when he tries... ;)